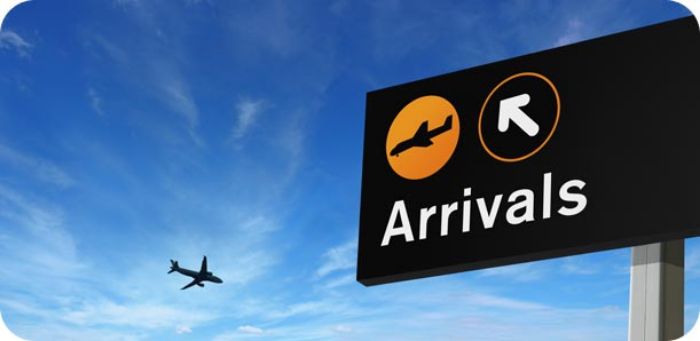 I always get excited when I see the Arrivals sign at the airport: the sense of joyful anticipation in watching for specific faces in the crowds emerging, the delight of reunions. Up in the air, the passengers have started to gather their things, freshen up, and fasten their seat belts in preparation for landing.
Arrival. Destination reached.
Here at Unique Batik, the arrival of new merchandise from Guatemala and elsewhere always causes great excitement as well! The journey of our garments, bags, and jewelry, from the artisans to Raleigh, is a road strewn with obstacles. Anything from roadblocks or road washouts to volcanoes erupting or bureaucratic hurdles can be expected.
At this

point

of our calendar

year, we

are

entering

the

season

of Advent.
The word "advent" means to arrive and is generally used to signify the arrival of an event. In Christian circles around the world, Advent refers to a four-week season celebrating the arrival of Jesus Christ on earth many centuries ago.
Advent is also a season to focus on four topics, one per week leading up to Christmas: Hope, Peace, Love, and Joy. Four Advent candles are lit in Advent wreaths as the countdown raises enthusiasm and longing.
Our unique holiday traditions are handed down from one generation to another. The specific customs around festivals are simultaneously the distinguishing and unifying elements in families and cultures.
One such practice in America is decorating an evergreen tree the week after Thanksgiving. The boxes of tinsel and lights come down from the attic, and many memories are revisited as each item is unwrapped. The rich history of this tradition is a fascinating read.
Take a look at these magnificent decorations from Unique Batik:
"Science and technology revolutionize our lives, but memory, tradition, and myth frame our response." (Arthur M. Schlesinger)
Indeed. Our emotions fray as we speed to the conclusion of 2023. And I am aware of the dread these holidays can conjure. However, helpful traditions can frame healthier responses. Think about your family's holiday customs for a minute. Do they draw your attention to deeper realities than the commercial overload this season often induces? (Feel free to share any in the comments below.)
Dread is the opposite of expectancy.
Jeff Hutchings shares a fresh insight by connecting the upcoming holidays: "Thanksgiving is like an appetizer for Advent... Thankfulness is the perfect soil for expectancy." Read the article here.
Here is how you connect the dots: Reflect on the past ten months. Remember. Count the gifts. Give thanks. Share gifts. Fill up on hope.
A way to let off the pressure as we descend onto the tarmac.